We have all played the role of a teacher, imitated our favourite teachers, or found an interesting Professor in a web series or movie. Irrespective of how the profession might have caught your attention. It is one that evokes respect and at times, awe.
If you are somebody who likes to share their knowledge with others and finds joy in public speaking. The career of a Professor might just be for you!
In this blog, we will talk about a career as a Professor, the courses you can apply for, job roles, salary insights, and career outlook. Make sure to read till the end for references you can use for becoming a Professor.
What does a Professor do?
A professional with a doctorate in their subject who teaches at the college or university level is known as a professor. One must pass a number of tests, acquire the necessary experience, and obtain the required credentials before being given the title of "Professor."
Here are a few duties you will have to follow in your career as a Professor.
Academic:

Teaching subjects of expertise
Preparing Lesson plans and assessing evaluation patterns
Conducting research and publishing papers
Review and update existing teaching materials
Mentor and supervise graduate and postgraduate students
Conduct examinations and evaluate exam papers
Undertake student counselling.
Travel to other universities or academic seminars to participate in workshops on learning opportunities for experience
Adapt teaching techniques and instructional materials to fit students' diverse needs and interests.
Administrative

Organize Departmental and University activities
Oversee student admissions to course programs
Participate in conferences, committee, departmental, and faculty meetings.
Job Roles for a Professor
Here are the job roles you will have in your career as a Professor:
Research Assistant
In India, most professors begin their careers as research scholars before taking entrance tests such as NET or SLET to gain teaching positions at universities. The research subject, research, citations, and recommendation letters of a prospective professor can assist in landing a post.
Assistant Professor
The entry-level teaching post is that of Assistant Professor. As assistant professors, all professors are responsible for overseeing various aspects of instruction. One of the first positions you can get closer to in your career as a Professor.
Guest Professor
A Guest Professor is a non-permanent teaching member of a university's faculty. A university either invites them to a special event or hires them for a semester. They can be at any rank, from assistant professor to associate professor or full professor.
Associate Professor
Associate Professor with experience and tenure (8 years), an Assistant Professor advances to Associate Professor. They are in charge of activities like teaching, research, overseeing students, attending conferences, and resolving administrative concerns.
Director of the Department
Associate professors are awarded the title of HOD, which is a respected position of influence. They are in charge of overseeing the department's operations. A new HOB is appointed every year at some universities, while the tenure is longer at others.
Career path for a Professor
In your career as a Professor, you will realize the potential your title can hold and the influence you can have on people's lives. Another perk of the career is being able to get acquainted with changing generations.
The career path to becoming a Professor is highly dependent on the subject you wish to teach. For example, if you are someone who wishes to teach Physics, you will have to choose the science stream right after Grade 10. Whereas, if you wish to choose Economics, you can choose any stream after Grade 10.
A general idea of the pathway required to proceed with a career as a Professor is as follows:
Path I:
Minimum of 60% in Grade 10 from a recognized University & Board.
Diploma in Data Analytics/Engineering/Computer Programming/Graphic Design/ or any subject of your interest.
Graduation in Arts English/Economics/ Philosophy/Political Science/Engineering/Zoology/Microbiology/Physics/Chemistry/ Journalism and Mass Communication/Business Management/Administration
Masters in Social Sciences/Life Sciences/Business/Journalism
Qualify UGC-NET/CSIR-NET/SET
PhD in your selected discipline.
Path II
Minimum of 60% in Grade 10 from a recognized University & Board.
Minimum 55% in Grade 12 Science/Arts/Commerce
Graduation in Arts English/Economics/ Philosophy/Political Science/Engineering/Zoology/Microbiology/Physics/Chemistry/ Journalism and Mass Communication/Business Management/Administration
Masters in Social Sciences/Life Sciences/Bussiness/Journalism
Qualify UGC-NET/CSIR-NET/SET
PhD in your selected discipline.
A person who has passed the NET/SET or a comparable exam may enrol in an MPhil or PhD program without taking an entrance exam. If you haven't qualified for the prerequisite exams, you'll have to take the entrance exam.
During your PhD, you can work as a lecturer or a teaching assistant (TA) at a college or university and start your career as a Professor.
Salary in different stages of a career as a Professor
The graph below shows an estimated average monthly salary one can receive in their career as a Professor based on their roles.
Skills Required to become a Professor
The Skills one should possess in their career as a Professor
Teaching Skills:
Communication Skills:
Effective communication is key to engaging teaching.
A Professor has to frequently communicate with different groups of people. From students to fellow professors, there is a constant exchange of ideas and concepts.
Therefore, a Professor should be able to articulate his/her thoughts in an engaging and thought-provoking way that encourages interaction or discussion.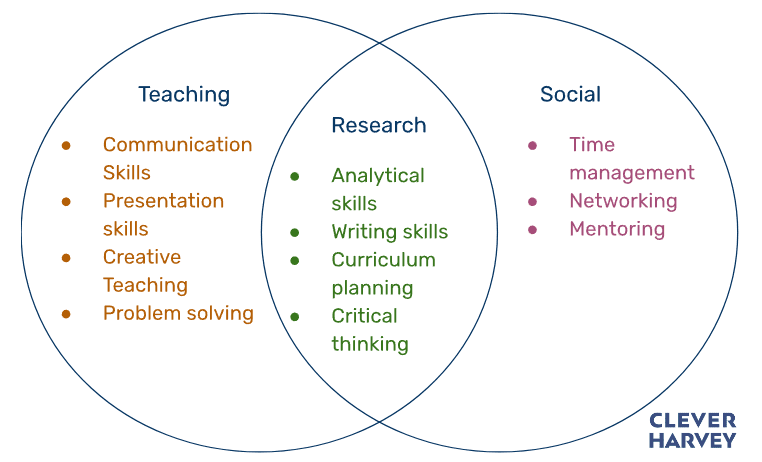 Presentation skills
A skill connected to communication is how one presents his/her thoughts. Presentation skills include, but are not limited to, lecture delivery, body language, teaching style/technique, modes of delivery- visual, extracurricular, etc. everything that aids in effective teaching and knowledge acquisition.
Creative Teaching
We all know of teachers who were either creative or incredibly monotonous. Naturally, the creative ones are the ones who managed to make the subject fun and interesting. The use of multimedia, activities, field trips, real-life examples, and student-led projects are a few of how teaching can be made interesting.
Problem-solving
While giving a presentation, we all had clammy hands and itchy throats out of nervousness. Speaking in front of 100 students is not an easy task.
Finding immediate solutions to classroom problems, filling learning gaps, and communicating with stakeholders/ administration requires a high level of problem-solving skills- both personal and professional.
Research Skills:
Analytical skills
A skill essential not just for teaching but also for content research and upskilling your knowledge of the subject. Irrespective of the subject a Professor has to teach, it is important to be able to analyze and synthesize one's work for a coherent explanation of content.
Writing skills
Right from being a student to becoming a research scholar and later Professor, each stage will demand excellent writing skills. Be it writing a thesis or creating study material or research papers, all of it requires expert knowledge of subject matter and language proficiency.
Curriculum planning
A University or Institute has its set curriculum with course objectives, however, understanding each classroom's needs and adopting a blend of learning styles is an integral part of curriculum planning.
Critical thinking
Teaching is a two-way communication that encourages ideas and promotes innovation. As a Professor one should avoid being the only source of information. Introduce your students to the right resources and guide them in student-led projects. This will develop their analytical skills.
Another way of looking at critical thinking is to empathize with your student. Every Professor was once a student, empathizing with your students will aid in creating a healthy learning environment. The emotional quotient is seen to have been one of the important aspects of pedagogy.
Social Skills:
Time management
In the roles and responsibilities section, we have listed the different duties a Professor has to perform. All of it requires good time management.
If one has to stay relevant in the education field, they've to constantly update their skills and publish research work. A critical balance between academic, administrative, and personal life has to be maintained.
Networking
Conferences, seminars, and workshops are excellent spaces for intellectual interactions and discussions. These opportunities carve the path for interdisciplinary engagements for the professors and students.
Conferences and seminars are also places to showcase your findings and studies. As a student, one can get a wide range of exposure and insights through them.
Mentoring
As a Professor, you will be assigned the task of honing your student's skills and knowledge. Mentoring or guidance to students will allow you to connect and stimulate their intellectual prowess. Collaborative work with your students will improve your teaching and the overall process of subject delivery.

If you want to develop such extraordinary skills and stand out from the crowd, try Clever Harvey's JuniorMBA Future CEO program and improve your personality to stand out in the skills you enjoy.
Is Professor a good career option?
There's always a perceived notion that one of the perks of being a teacher or Professor gives you a lot of holidays and time to relax. However, it is not the case for everyone. The weeks before summer or winter breaks are loaded with duties like assessment submission, meetings, semester planning, etc.
This is not to discourage you from picking up this career, however, to realize that it is a career that has its own perks and drawbacks. The perks are- the liberty to teach and engage with students in the method best suited for the batch, intellectual freedom, job security, professional esteem, and career satisfaction.
Apart from this, the graph above shows you the salary hike one can receive with each passing role and experience. The Bureau of Labor Statistics has estimated a 15% growth in career prospects. The education sector is bound to be present and considered one of the most secure ones, thus a career as a Professor is a good option.
Type of industries Hiring Professors
As mentioned above, the growth in the field of education is steady. Apart from that, Professors are people with high subject expertise and thus required in multiple fields of study. Below are a few industries that you can work within your career as a Professor:
Government institutions
Private institutions
Research
Ed-tech industry
Education
Non-Government Organization
Top Recruiters for Professors in India
Based on the industries mentioned above here are a few universities in India that you can apply to, to start a career as a Professor,
Indian Institute of Technology
Birla Institute of Technology
Symbiosis Open Education Society
IMRB International
Delhi University
IGNOU
Amity University
Lovely Professional University
JNU
Jaipur University
Courses to upskill as a Professor
One can pursue courses offered by universities, NPTEl, SWAYAM, or Coursera on teaching or research. Furthermore, one can also upskill themselves in their specific subject of expertise.
Most of these certificate courses are for an estimated 6 months or are a part of faculty development programs. Here are a few certificate courses you can opt for to have a career as a Professor:
Teaching Character and Creating Positive Classrooms by Relay Graduate School of Education
Certificate in Teaching English Grammar by Asian College for Teachers
University Teaching by the University of HongKong
Qualifications to become a Professor
A skill that improves with practice and time is teaching. Throughout the semester, take part in conferences, research projects, and internships. It will assist you with acquiring the information and abilities required to work as a professor. The earlier you begin, the better.
You'll need to be familiar with data analysis if you want to become an economics professor. Look into the data analytics JuniorMBA course offered by Clever Harvey.
Degrees in India
Get your bachelor's in a subject that fascinates you. It's possible for a student to know their area of specialization from the start of college or to find it out later. For individuals enrolling in the Honours program, it can be different.
UG degree
No specialized degrees in college or university teaching are offered in India. An undergraduate degree will be required, and then a master's degree in the same field. However, during postgraduate study, one can focus on a certain subject area.
The eligibility criteria for applying for undergraduate courses to start a career as a Professor are shared in our blog- How to become a Professor in India.
Bachelors in Arts English/Economics/ Philosophy/Political Science
Bachelors in Engineering
BSc. in Zoology/Microbiology/Physics/Chemistry
Bachelors in Journalism and Mass Communication
Bachelors in Business Management/Administration
PG
Enrol in a master's degree. Many universities provide an entry-level examination for their Master's Program. It would be an excellent time to participate in research initiatives, publish individual or collaborative papers in academic journals, and assist with teaching. One can also identify their field of interest for a PhD.
A few of the postgraduate programs you can apply to in your career as a Professor-
| | |
| --- | --- |
| Name of the course | Duration |
| Masters in Arts English/Economics/ Philosophy/Political Science | 2 years |
| Masters in Engineering | 2 years |
| MSc. in Zoology/Microbiology/Physics/Chemistry | 2 years |
| Masters in Journalism and Mass Communication | 2 years |
| Master in Business Management/Administration | 2 years |
During your second-year post-graduation, you can prepare and attempt the National Eligibility Test/ State Eligibility Test qualifying exam for Assistant Professor. One can give these exams after completing the Master's degree. After Qualifying for the eligibility tests or equivalent exams, one can apply to Universities for teaching positions.
Degrees Abroad
The eligibility criteria are mentioned in our previous blog. Similar to the above-mentioned degrees, one can enrol in a bachelor's in Education/Social Sciences/ Economics/Life Sciences/Engineering or Medicine, etc.
To apply for a postgraduate degree abroad, a minimum of 55% or equivalent grade point average in graduation, language proficiency score, SOP, LOR, and the application essay are required.
A few of the postgraduate degrees you can apply to start a career as a Professor are:
| | |
| --- | --- |
| Name of the course | Duration |
| Master in Education | 2 years |
| Master in Social Sciences/ Humanities | 2 years |
| Master in Life Sciences/Pharmacy/Physics | 2 years |
| Master in Engineering/Medicine | 2- 3 years |
References for a Professor
Research Journals for publication:
International Journal of Scientific Research, Engineering, and Management
Advance Research Journal of Social Science
Review of Economic Studies
eLife
American Journal of Business
Here's a list of UGC-care list of Journals [Link]
Websites for Research and upgradation:
Shodhganga
Jstor
Research gate
Science Direct
Swayam
NPTEL
Books to read on Teaching:
"The Hidden Lives of Learners" — Graham Nuthall
"Seven Myths About Education" — Daisy Christodoulou
"The University: An Owner's Manual" — Henry Rosovsky
"Multiple Intelligences" — Howard Gardner
Small Teaching: Everyday Lessons From the Science of Learning — James M. Lang
Thank You, Mr Falker — Patricia Polacco
Becoming a Professor is considered a high-satisfaction job. You get to see your students grow intellectually and also leave a lasting impression on their life. With each passing year of experience, you will upgrade yourself to the changing times and contribute to the research focused on improvement and innovation. One should definitely try a career as a Professor.
FAQ Section for Career as a Professor
How many years does it take to become a professor in India?
It will take an estimated 5-6 years to be eligible to apply for the position of Assistant Professor.
What qualifications do I need to be a professor?
You will need a minimum of a master's degree in your selected domain and a NET/SET qualification certificate to apply for the post of Assistant Professor. A doctorate is necessary for the same or the post of a Professor.
What is the salary of a Professor in an Indian university?
An Assistant Professor in India earns a minimum of Rs. 30,000 rupees per month to a maximum of Rs. 1, 15,000 rupees per month.
Is a PhD required to be a professor in India?
Though one can apply for a teaching position after qualifying National eligibility test (NET), a doctoral degree is mandatory for the role of a Professor.
Where can one apply for the post of Assistant Professor?
One can apply to Universities, Private or Autonomous Institutions for the post of Assistant Professor.
What are the qualifying exams for becoming a professor?
National Eligibility Test (NET), CSIR- NET, and State Eligibility Test are a few of the qualifying exams for becoming a Professor.