Are you the one who imagines yourself to be the hero/heroine who is likely to save people's lives even if it means putting yourself in danger?
This is definitely not me. But it might be you! And this takes courage and if you have already done this, then I salute you! But if not, and are looking for an opportunity, then a career as a firefighter would be a good option for you!
It is one of the few meaningful jobs available which provides a lot of satisfaction at the end of the day. Unlike any other job which might make you feel like you are contributing to the universe in 20-30 years, firefighting is the job wherein you can see the value right there- when you save someone's life. I mean life is the most precious thing and if there is a job which helps you save it, then I don't know what other motivation you need. However, it also takes a lot of bravery and resilience to be a firefighter.
If this interests you, then read the blog to know about it as a career- What is the education you need? What kind of skills are required? What are the various roles? What kind of growth can you expect in it? And a lot more questions will be answered in the rest of the article.
What does a Firefighter do?
Firefighters are frequently the first officials to arrive "on the scene" of fires, accidents, or other emergencies, which is why they are also referred to as "first responders." You can pursue a career as a professional firefighter or as a local volunteer firefighter and make a difference in people's lives by helping your community.
In emergencies, full-time firefighters assist in preserving the public. They respond to a wide range of emergencies, including fires, automobile accidents, chemical spills, flooding, and water rescues.
The work involves responding to emergency call-outs as well as:
Utilising cutting-edge firefighting and rescue apparatus
Equipment maintenance and inspection in between usage through lectures, suggestions, and training sessions, promoting fire safety
Examining structures for fire safety and enforcing safety regulations
Completing drills for practice
Working alongside police and ambulance professionals while undergoing academic and physical training.
Job Roles for a firefighter
Volunteer firefighter– Volunteer firefighters assist their local fire stations on a part-time basis. They are always on call to respond to emergencies, and they frequently deal with wildfires in areas where there aren't enough salaried firefighters. Volunteer firefighters can drive trucks, administer first aid, and use firefighting tools after completing training classes and receiving basic medical certifications. Volunteer firefighters are either unpaid or paid a percentage of the salaries of local firefighters.
Inspector- An inspector ensures that buildings meet fire safety codes. If the inspector discovers a problem, such as blocked evacuation routes or flammable materials in hazardous areas, he or she will enforce fire codes to keep the building and its occupants safe. While all firefighter jobs require fire prevention efforts, inspectors work directly with people to educate them on how to prevent fires from starting in the first place. Although inspectors are not required to undergo training to become firefighters, many come from a firefighting background and may work extinguishing fires and inspecting buildings.
Wildland firefighters- Wildland firefighters are responsible for putting out wildfires in high-risk areas. They respond to emergency calls, rescue civilians, and maintain tools such as chainsaws that aid in tree cutting. The duties of a wildland firefighter are similar to those of other types of firefighters, but they typically work only during the summer, when wildfires are most likely to occur. Furthermore, they train to contain certain fires rather than extinguishing them to make way for new plant growth. As a result, wildland firefighting can be extremely dangerous and necessitates spending days and nights outside.
Firefighter engineer- A firefighter engineer primarily works with the fire engines and trucks that transport firefighters to the scene of a fire. They drive into emergency situations and place tools such as water hoses and ladders for other firefighters to use. Furthermore, firefighter engineers repair and maintain the fire department's vehicles, as well as clean and maintain tools. Firefighter engineers may have special training to drive in hazardous conditions. This job requires mechanical knowledge as well as knowledge of fire prevention and control.
Airport firefighter- An airport firefighter specialises in dealing with runway fires and other airport emergencies. Because of the dangers of mixing water with oil or electrical fires, they may use specialised equipment such as firefighting foams and chemical agents more frequently than other firefighters. Some airports keep their own firefighting crews on site to improve response times and ensure that all passengers can be safely evacuated in the event of a fire. Airport firefighter training is similar to other types of firefighter training, but there is a focus on speed and aeroplane knowledge.
Firefighter/EMT- A firefighter/EMT is someone who responds to medical and fire emergencies. Many firefighters have EMT certification, allowing them to provide medical care to people and animals on the scene of a dangerous situation. A firefighter/EMT, like other firefighters, extinguishes local fires, but they must go through additional training to obtain the EMT certification that allows them to practise basic emergency medical measures. For more efficient rescues, a fire department may require all of its firefighters to be trained as EMTs. EMT-trained firefighters can also transport patients to hospitals in an ambulance.

Firefighter/paramedic- A firefighter/paramedic is a trained medical professional who fights fires and responds to life-threatening situations. Firefighters must first be certified EMTs and meet certain qualifications, such as having field experience and passing health checks, in order to do this job. Firefighters and paramedics not only put out fires and respond to emergencies, but they also diagnose and perform medical procedures on the scene. They also write and submit incident reports to hospitals after providing care.

Fire investigator- Fire investigators arrive after a fire has been extinguished to determine what caused it. During an investigation, they examine evidence to identify arson suspects or negligence that may have started or allowed the fire to spread. This occupation necessitates knowledge of fire science, the scientific method, and, in some cases, police training. A fire investigator may be assigned to a police department rather than a fire department, depending on where they work. Before investigating the cause of a fire, fire investigators may also train firefighters to help extinguish fires and rescue civilians.
Fire marshal- Fire marshals are senior firefighters in charge of enforcing fire codes, investigating fires, and supervising fire prevention efforts. A fire marshal's duties are similar to those of inspectors and fire investigators, but depending on local laws, fire marshals may arrest arson suspects. As a member of the government, they may work in a local fire department, a police department, or their own building. Before being promoted, fire marshals typically have years of experience fighting fires, and they use that experience to help prevent fires and identify problems before they become emergencies.
Fire chief- A fire chief is one of the most senior officers in a fire department. Fire chiefs oversee firefighters in their respective stations or special divisions. While fighting fires in the field, fire chiefs also manage the business side of their stations, such as filing paperwork, leading fundraisers, and organising public education events. Firefighters must have years of experience and be promoted to the position to become fire chief. Fire chiefs should also continue their education, such as by earning a degree in fire science and maintaining their EMT or paramedic certification.
Career Paths to becoming a firefighter:
The basic educational requirement is a Class 10th certificate from a recognized Indian education board. Some firefighting jobs may require a Class 12 certificate or advanced qualifications such as a diploma or bachelor's degree.
PATH 1: Through a Bachelor's degree: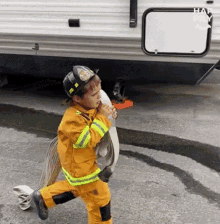 There is no mandatory subject requirement to become a firefighter. However certain degrees will make your journey to become a firefighter very smooth. A B. Tech or a B. Sc in fire and industrial safety is the best degree to pursue if you are sure of your career as a firefighter.
PATH 2: Through Diploma Course
A career as a firefighter comes with a lot of responsibilities. Thus, it may take some time for you to figure out whether you are made for it. And Diploma courses are a great way that can help you gain clarity and help you determine your preferences. Additionally, these courses also make you eligible to apply for a job as a firefighter. Thus, it's a win-win situation for you!
If you are more interested in specific courses in India or Abroad, you can check out our blog on How to become a firefighter.
Salary in different stages of a career as a firefighter
The average salary of a firefighter is ₹362,221 per year. The pay may vary depending on your location, designation, skills, and experience.
Firefighters with 5 to 10 years of experience earn more than firefighters at the entry or mid-career levels.
Skills required to become a firefighter
Teamwork: For the majority of employment pathways, teamwork is a necessary ability. This is even more true for firemen since a breakdown in the group dynamic could endanger everyone's safety. The firefighting academy provides the ideal setting for you to hone your teamwork abilities among other aspiring first responders. Although having leadership and initiative are valuable traits for a fireman, keep in mind that you will always require support to deal with situations.

Problem-Solving: Firefighters use their problem-solving abilities to quickly analyse circumstances and create action plans. These abilities aid firemen in identifying potential dangers and weighing those risks against the advantages of their course of action. Firefighters evaluate fires and building damage to quickly decide the safest approach for fighting fires, entering buildings, and performing rescues.

Adaptability skills: The ability to handle the unexpected is a significant part of the job. The next moment you might be called to an industrial fire while performing normal equipment maintenance at the fire station. Once on the site of an emergency, the attack strategy could be thwarted by the weather, the unexpected instability of a building, or erratic behaviour by the victims, onlookers, or perpetrators, requiring a lot of adaptability skills.

Mechanical Skills: Mechanical aptitude is a component of that required expertise. In all facets of their profession, firefighters utilise tools, specialised equipment, trucks, and machinery. Understanding how to use, care for, and fix this equipment is crucial.

Spatial Skills: Firefighters design entrance strategies for burning structures and action plans during emergency reaction circumstances using spatial awareness. When a person has spatial awareness, they can see patterns in an area and gauge its size just by looking at it. People with spatial awareness can recall the initial appearance of a building or room after its contents have been shifted. When firemen are attempting to get through a blazing structure where walls or furniture may have been damaged, this ability can be useful.
First aid skills: The ability to administer first aid is crucial for successful firefighters. EMTs and firefighters frequently collaborate, and some jurisdictions even mandate that firefighters complete EMT training. A firefighter's ability in biology, knowledge of medical terminology, and attitude toward the injured when dealing with victims of fires or other emergency circumstances are necessary for them to carry out their tasks.

Emotional Intelligence: More than most other careers, the scenarios and emergencies you may encounter as a fireman will demand you to have higher emotional intelligence skills. As you proceed with occurrences, such as telling someone to leave a burning building or mediating a dispute so that both parties can escape to safety, you'll need to be able to control your own emotions. It would be challenging to carry out the tasks of the job if you were unable to control your own emotions in a constructive way.

Detail-orientedness: A firefighter must pay close attention to the factors within their control because there are so many potential variables in an emergency. When the call comes, those who regularly check their gear and safety gear, maintain good physical health, practise drills with other firemen, and update pre-plans will be more prepared. Additionally, they won't be as likely to experience harmful setbacks due to malfunctioning equipment or mental incompetence.
Is being a firefighter a good career option?
According to the U.S. Bureau of Labour Statistics, firefighter employment is expected to increase by 4% between 2021 and 2031, which is about average for all occupations. Over the next ten years, there are expected to be, on average, 28,000 opportunities for firefighters.
For firemen to develop and learn something new, there are numerous options and opportunities. Despite being a dangerous job, it prevents numerous dangers from taking lives. Firefighters can choose a position in any industry, whether it be public or private, based on their interests and preferences. They can also work for enterprises that manufacture chemicals or flammable goods, such as those that make textiles, fertiliser, or combustible materials in petroleum refineries. In the fields of engineering, chemistry, managing bottling plants, etc., there is a tonne of work opportunities.
One of the toughest and most difficult professions involves protecting the lives of numerous individuals around, it is a serious field. As more individuals become aware of safety and prevention, the advancement in this field is increasing daily.
Industries that a firefighter can work in:
Do you think that firefighters can work only in the local fire departments? Nope! There are a variety of areas where firefighters can work. Some of them include:
The armed forces
Electricity boards
Refineries
Insurance companies
Chemical plants
Construction firms
Aircraft industry
Textile plants
Courses to Up-skill yourself as a firefighter
Students can pursue the following certifications in 'Fire Safety Training Courses
Certificate in Fire Safety and Hazard Management
Certificate in Industrial Safety
Certificate in Safety Management
Certificate in Fireman Training
Certificate in Driver Cum Pump Operator
Certificate in Fire Safety and Security Management

Try out Clever Harvey's JuniorMBA Technology program to master the technical skills needed.
Qualifications required to become a firefighter
Degree in India
A Class 10th certificate from a reputable Indian education board is the minimum qualification. A Class 12 certificate or more advanced credentials, such as a diploma or bachelor's degree, may be necessary for some firefighting positions.
UG Courses:
| | |
| --- | --- |
| Course | Duration |
| B.Sc. Fire and Industrial Safety | 3 years |
| B.Tech. Fire and Safety Engineering | 4 years |
PG Courses:
| | |
| --- | --- |
| PG Course | Duration |
| M.Sc Fire and Safety | 2 Years |
| ME/M.tech in Safety and Fire Engineering | 2 Years |
Degrees Abroad
Firefighters training abroad also require a bachelor's degree. There are various courses available that you can pursue Bachelor's in Fire Science, BS in Fire Safety & Emergency Service, BS in Fire Administration, BS in Fire Science & Public Safety Administration, BA in Fire Service Administration, BS in Emergency Science-Fire Service Management. These courses take 3-4 years to complete depending on the country to apply to.
Entry into these courses will require you to give language proficiency test scores of IELTS, TOEFL, PTE, SATs, etc along with an SOP (Statement of Purpose) and LORs (Letter of Recommendation). Want some help with SATs? We have got you covered. Read this blog to know more!
Want to know more? Check these out
If you've arrived at this point in the blog, it can only mean one thing: you like firefighters and may one day become one yourself!
As a bonus, a list of a few inspiring movies about firefighters is included here. Check them out and have fun exploring more!
Only the Brave (2017)
Fire: Trapped on the 37th Floor (1991)
Brave Are the Fallen (2020)
Ladder 49 (2004)
Crash Landing: The Rescue of Flight 232 (1992)
Backdraft (1991)
The Towering Inferno (1974)
Burn (2012)
9/11 (2002)
The Tower (2013)
The term "first responder" refers to a fireman since they are frequently the first official "on the scene" of a fire, auto accident, or other emergencies. One of those crucial occupations when workers risk their own lives to save that of others. It is a real-life superhero's profession, as was indicated at the opening of the blog. Wishing you luck on your path to becoming one!
FAQs- Frequently Asked Questions about the Career as a Firefighter
What are the challenges of being a firefighter?
At work, firefighters run the risk of suffering from heat exhaustion, burns, and physical and mental stress. Additionally, they frequently come into contact with harmful risks like high quantities of carbon monoxide. This type of employment provides a risk for numerous diseases because of these hazardous exposures.
What values should firefighters have?
We all have a duty to represent the Fire Service with an ethical character of professionalism, integrity, compassion, commitment, and honesty in everything we do, all the time.
What makes a firefighter a hero?
Firefighters view themselves as modest public servants, yet they are heroes for the work they do to save people from burning buildings and extract them from the rubble while putting their own lives in danger to defend their fellow firefighters and the general public.
What is a day in the life of a firefighter like?
Firefighters are renowned for devoting their entire life to the fire service, working round-the-clock hours, and responding to medical emergencies, car accidents, and fires and explosions. They participate in physical fitness training, clean trucks and maintain equipment, and speak to groups about the value of fire safety.
How do you know if being a firefighter is right for you?
The best firefighters are those who can remain calm under pressure while juggling multiple tasks and acting quickly in life-or-death situations. They must be able to organise a lot of information quickly under demanding mental, physical, and psychological circumstances.